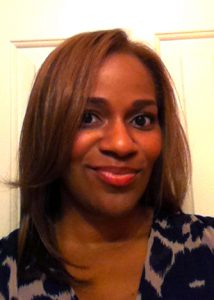 Aesha Baldwin: Field Services Consultant, MEA
Type of non-union experience: state without collective bargaining rights (GA)
What was it like working in a state with no collective bargaining? It was hard, but at that time, it was all I knew. I thought all middle school teachers ate with their kids every day.  I thought having meetings during my planning period almost everyday was normal. I thought an extra $30 per pay (monthly) was normal for coaching cheerleading. I thought 37 kids per class with no additional compensation was normal. I thought having furlough days imposed in the middle of the school year was normal. I thought not receiving COLA, even though the state gave the district the money, was normal.
What specific experiences illustrate the difference between working with and without union bargaining/representation/protections? I didn't fully understand that I was getting majorly mistreated until I went into the NEA UniServ Intern Program for Women and Ethnic Minorities.  It was then that I understood how important having a strong union was. It was then that I realized that IF Georgia had the right to bargain, I would have had an actual contract and not a 1-page (front and back) document that gave me zero assurances. Heck, my annual salary wasn't even guaranteed because of the provision about funding in the "contract." That wouldn't have been the case had I been teaching in a state with collective bargaining rights.
What benefits and protections do you have now that you didn't have in your previous place of employment?  All of the above plus more!
Based on your experiences, what would you say to educators who opt out of the union or choose not to pay dues? Pay them! Get involved! Use your voice! If you don't, Michigan could end up like Georgia, and your contract could end up looking like mine.
Click here to see Aesha Baldwin's one-page contract from a teaching job in Georgia, which specifies "This contract salary may be decreased… due to unforeseen shortfalls in revenue…"