You've heard the old saying about what to do when life gives you lemons, right? But what happens when life gives you a chapter book about lemonade stands – and your third-grade class falls in love with it?
Well, if you're MEA member Lisa Keene, you organize a Lemon(aid) community service project that takes students into the streets of Petoskey to bring their reading experience to life.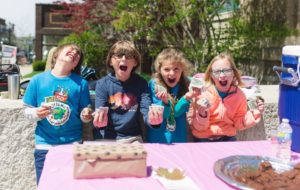 The inspiration was The Lemonade War, a novel by Jacqueline Davies about a brother-sister rivalry that turns into competing lemonade stands. As the siblings battle through the book to make the most money, each chapter includes information about how to run a business – including vocabulary terms.
The cross-curricular learning was phenomenal, said Keene, a teacher at Petoskey's Ottawa Elementary School. But the most exciting part was the students' interest in the fictional "war." One day, a third grader asked "Could we do that?" and a project was born.
Soon the kids were planning what to do with the money they would make and developing flyers to advertise the event. Shy kids and born salesmen alike approached business owners with a pitch about posting the flyers in their windows. The students practiced and encouraged and cheered each other on, Keene said.
One little boy dressed up for the occasion, using his finest vocabulary to tell business owners he approached about the book that "inspired us to replicate the idea," Keene said.
"So many times, just taking my students to deliver signs and talk to businesses, I had to fight back tears I was so proud of them," Keene said. "I'm emotional because I'm a mom, so I celebrate their joys and I feel their sorrows double – once as a teacher and again as a mom."
Parents helped solicit donations from businesses, and students bought supplies to bake brownies on a mass scale to sell with the lemonade – a math lesson in fraction conversions and profit calculations.
All of the hard work culminated in a city-wide event from 11 a.m. to 1 p.m. last Friday. From five different lemonade stands around Petoskey, the students made $2,300 – crushing Keene's expectation of raising $1,000.
"We have a wonderful and supportive community, but never would I have dreamed of profits like this!" Keene said.
The class will split the proceeds 50-50 between the Little Traverse Bay Humane Society and the purchase of books for Ottawa Elementary's summer reading program. Many students at the school don't have books at home to read during time off in the summer, Keene said.
The money raised will help students feed their interest in reading and maintain their academic progress, she said.
For Keene, the project represents the kind of teaching that defies current trends toward scripted curriculum, reaches every child, and develops a love of reading through real-world connections. It's also the sort of experience students never forget.
"There were so many times when I thought this is what teaching should be, this is how it can be," Keene said. "It doesn't always have to be a full-blown community project, but to be able to say to kids, 'Tell me about what you would like to do. You've got an idea? Let's do this.'"