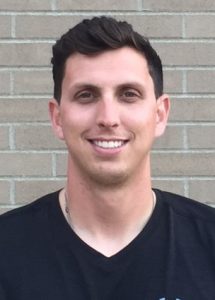 Brett Hudson: Health and P/E Teacher, East Jackson Community Schools
Years in Education: 2
Type of non-union experience: Charter School
What was it like working in a school without a union? As a new teacher (only having experience without a union) I am not too familiar with the collective bargaining process. However, it was pretty nerve-racking working at a charter school where everything was basically a take-it-or-leave-it mentality. Whatever the policies that were in place from the company were the law. Everything came from the top and there wasn't very much input from the teachers.
What specific experiences can you point to that illustrate the difference between working with and without union bargaining/representation/protections? I was fortunate to not have any negative experiences while teaching in a charter school. The biggest thing that was different for me was the fact that everything came from a company and not a school board or a community. I was an at-will employee and could be let go at any time for any reason. The pay was significantly lower than that of the public school I currently teach in. There was a large amount of teacher turnover in the year I was there. I believe they had to replace at least 6 teachers per year due to teachers taking jobs with public schools.
What benefits and protections do you have now that you didn't have in your previous place of employment? The biggest benefit is the fact that I now have the ability to join a union. I am now able to have the protections that I didn't have while working at a charter school. The health benefits that I have from MESSA are incredible. The only option I had for a retirement was to invest into a 401K through a company they sent to the school. I now have the option to choose between a couple different plans and pick one that will benefit me most in the long run. It just feels like I have a lot more control over things vs. the no control I had while working at a charter.
Based on your experiences, what would you say to educators who opt out of the union or choose not to pay dues? I would tell them that the stress of receiving lower pay and lower level insurance and benefits far outweighs the money that you invest into being a member of a union. Having the support and backing of the union lets you approach your job in a way that you feel protected. I know personally I feel relief knowing that somebody has my back.
Why do you belong to MEA/pay dues? I belong to the MEA and pay dues because I feel it is extremely beneficial to me. It helps me feel protected, and I feel a sense of support in an instance where I may need it. It also is a resource for me as a teacher. I can approach other MEA members with questions I may have as a newer teacher. Overall, there are no negatives or downsides from my perspective, only positives.