Five months ago, MEA members in Charlotte faced disciplinary action for wearing "red-for-ed" shirts in coordination with each other. Scared but undeterred, they participated in a statewide "Wednesday Walk-in" last May despite the superintendent's threats, and he eventually backed down.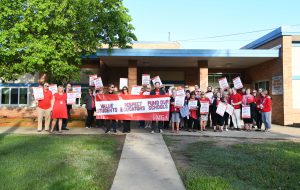 Now their unity has paid off in big ways.
After the conflict over Wear Red Wednesdays last spring, Charlotte Education Association President Julie Davis was approached by three school board members wanting to schedule a talk with her, the local's co-president, and Superintendent Mark Rosekrans.
"We sat down and talked a lot about morale, student support, and what students need," Davis said. "They pledged to us if fall enrollments came in better than projected, they would put money back into student supports."
And the board followed through, she said: Enrollment rose, and money for student supports followed. "This is what happens when we stand together. We can accomplish wonderful things."
Two new full-time "student support specialist" positions have been posted for hire to help struggling students at the middle and high schools. An existing student support specialist who has been splitting time between 1,000 students at the upper elementary and middle schools will be assigned to the elementary school full-time.
Two lower elementaries are sharing a support specialist as of now, but "we could add another next year if needed," Davis said.
The new staff members will be degree-holders in social work or a related field who help students navigate social, emotional, and academic difficulties through assessment, monitoring, counseling, and coordination of school and community resources.
"The district had between 600 and 700 parents respond to a community survey, and the results overwhelmingly came back to say our students' emotional and behavioral needs were not being met," Davis said. "The board has acted on that, and it's such good news for our district, our students, and our staff."
Last spring hundreds of MEA members across the state wore red and conducted weekly walk-ins to press policymakers to "value students, respect educators, and fund our schools."
In Charlotte, educators who joined walk-ins at several buildings in the district said years of budget cuts left students without needed supports – from social workers to supplies and substitute teachers. Union leaders complained about the district's nearly 20 percent fund balance held in reserve, and staff morale was at a low point.
"Now the staff feels heard and successful," Davis said. "They believe there is light at the end of the tunnel and help is on the way."
In fact, so much progress has been made that the administration agreed to design a new red t-shirt in coordination with the Charlotte Education Association. The front of the shirts will read, "We're all in this together," Davis said.
In the CEA's design for the new shirts, puzzle pieces are coming together representing teachers, administrators, school board members, bus drivers, custodians, paraeducators, students, parents, and all members of the school community.
Everyone will don the shirts on "wear-red" days going forward, she said. "It's a fantastic thing to know that what we do really can make a difference."