There were hugs, smiles, cheers, and lots of red shirts outside Charlotte Public Schools on Wednesday morning as educators participated in a statewide #WearRedForPublicEd campaign to press for adequate school funding.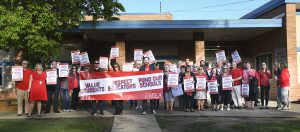 Two weeks ago, school employees in Charlotte were threatened with disciplinary action if they wore red shirts in coordination with each other and others across the state and nation. Superintendent Mark Rosekrans later backed down from barring colored shirts when local union leaders pushed back.
"My issue isn't with the district, although the red shirt decision was a little ridiculous," said Paul Murphy, a third grade teacher at Washington Elementary School. "The issue is underfunding, which is happening across the country. Needy kids especially, like in our district, are just not getting the support they need."
The teachers were joined in walk-ins at several Charlotte buildings by retired educators, MEA staff, and community supporters. The groups gathered together to rally for public education, sometimes marching in front of the building, before teachers walked in to school together.
"It's in my blood," said Harry Moore, a retired teacher and former president of the Lansing Education Association, of his decision to join the action in Charlotte. "This is great. Unity is everything. Staying united is key to bargaining."
MEA members have been wearing red and conducting walk-ins [https://mea.org/another-wednesday-another-walk-in/] at hundreds of buildings across Michigan on Wednesdays throughout May. The over-arching message for lawmakers is to "value students, respect educators and fund our schools."
In Charlotte, morale has suffered from years of budget cuts that have left educators and students without the supports they need – from counselors and social workers to supplies and substitute teachers. Everyone is stretched too thin, staff members say.
"This is about the kids and getting the money we need to do the best for our children and our district," said first grade teacher Marsha Waymire, who joined a walk-in at Charlotte Upper Elementary School. "This is a phenomenal district with great teachers and great families, and we can make it even better. Let us have the tools to do what needs to be done."
Union leaders have complained the district is holding too much money in reserve that should be spent on programs and services.
"We can't keep cutting everything to bare bones," said first grade teacher Cindy Cook. "Our kids deserve the best education; that's what we're here for – the kids."
MEA UniServ Director Yvonne Briley-Wilson told the teachers at one walk-in they were sending the district a positive message. "In order to make change, you've got to advocate," she said. "You're standing up for your students and yourselves, which is so important."
MEA Executive Director Mike Shoudy, who joined the Charlotte educators in the Wednesday morning actions, echoed Briley-Wilson's sentiment – calling out the bravery of local union leaders who fought for the right to wear red and walk in together.
"We're proud to be here to support you," he told activists at Washington Elementary School. "Public schools are central to our democracy and our communities, so thank you for bravely coming together in unity to stand up for your profession and your students."