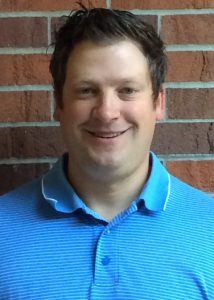 Curtis Kelenske: 5th/6th-grade Multi-age Teacher, Leland Public Schools
Years in Education: 13
Type of non-union experience: 1 year in private Catholic school, 6 in a charter school
What was it like working in a school without a union? The working conditions and work load in the charter school were very difficult. You had to do whatever the principal thought was best or you could lose your job. There was no professional discussion of what the teachers thought was best for students.  It was from the top down. Every year your contract was up, and you hoped for a renewal which created a lot of stress.  Once you received your new contract you negotiated one-on-one with the school owner and the superintendent. I did very well for the first few years getting sufficient raises and bonuses, but I felt added pressure to do more work and complete more jobs for the school.
What specific experiences illustrate the difference between working with and without union bargaining/representation/protections? In the end I knew my days were numbered when they asked me to move from middle school S.S. to upper el four days before school started.  I had no recourse for this and I spent four sleepless nights preparing for the school year.  I realized then that if I said no I could lose my position.  This kind of chain jerking was not providing a good environment for me to perfect my teaching craft, and I started looking for a job in a public school. Charter schools are not good for teachers! They are also not good for students. The words "for profit" do not belong in education. The charter school I worked for worked hard to get kids out of special education services and to not qualify kids with – in my opinion – significant learning disabilities. This saved them money and made owners of the school a lot of money. This school also did not offer a lot of choice for classes in the middle school and high school so they could keep class sizes higher. They said when I hired in that I would never have more than 18 students in my room but after 3 years I was up to 24. The cap kept moving for reasons we all know. It made the school more money.
Based on your experiences, what would you say to educators who opt out of the union or choose not to pay dues? I would say to teachers who opt out that if they let the union negotiate their contract they need to pay them for that service.
Why do you belong to MEA/pay dues? I pay my dues because it gets me the protection of not having to negotiate one-on-one without any way out of unreasonable demands.  It gives the school teachers that are supported by stability of staff and a safe working environment where kids and teachers have their needs met.