A California-based company that uses viral videos to promote kindness, inclusiveness, and gratitude as the core of American cultural values visited a school district in Jackson County to surprise six education support professionals (ESP) with a video shoot in their honor.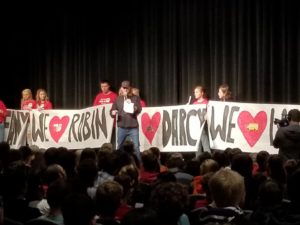 In partnership with MEA and NEA, the "Dude. Be Nice" apparel company chose Northwest Community Schools for the project. Previous videos produced under the NEA partnership have garnered national attention for the spotlighted schools and ESP, such as this one featuring food service workers from a school in Washington – known as "The Lunch Bunch."
At the confetti-strewn celebration this week, students honored playground aide Shelly Sercombe, paraeducator Tiffany DeConick, library aide and paraeducator Robin Dulek, custodian Darcy Maynard, bus driver Laurie Sibley, and kitchen manager Penny Kinch.
Ironically, the video shoot comes at a time when the Northwest Education Association is gearing up for a privatization fight. The school board is set to consider privatizing custodial and transportation services at a meeting Thursday night.
The Northwest High School band opened the raucous assembly as confetti cannons burst, followed by a rendition of "Let the River Run" by the high school choir, and a videotaped message from NEA President Lily Eskelsen García – a former "lunch lady" and classroom aide who became a special education teacher in Utah.
Education support professionals are the "unsung heroes" who enable students to have educational experiences where they are "healthy, safe, engaged, supported, and challenged," Eskelsen García said.
MEA Vice President Nancy Strachan was on hand to highlight the importance of education support professionals – "the backbone of all school districts."
"They know you by name," Strachan told the crowd of students and staff. "They know your parents. They know who needs that extra loving hand to guide them through their day, and that's so important."
The biggest surprise of the day was saved for Sercombe, a graduate of Northwest schools who began working as an elementary aide shortly after her retirement from the Michigan Department of Corrections – a career that made her want to help children avoid dead-end futures.
Sercombe's daughter was secretly flown in from California and hid in the school mascot costume before revealing herself, following a video tribute to her mom. The mother and daughter were treated to a Detroit Tigers baseball game with pre-game on-field passes.
Brent Camalich, founder of Dude. Be Nice visited the school district in May and was so impressed he contacted NEA to get approval for the video, now scheduled for release sometime in August. The company receives thousands of requests for video shoots but only selects three or four per year.
The commitment of students and staff at Northwest to creating a culture of kindness sealed the deal, said teacher Marnie Hade, an MEA member twice honored with a "Top Teacher" designation in Jackson County. Students went above and beyond this year by challenging each other to complete regular acts of kindness from a checklist, Hade said.
"Kindness is cool and it matters so much toward building a positive community, and this community in Jackson – they get it," Camalich said.