As local leaders in Warren and Fitzgerald see it, union members who play together, stay together.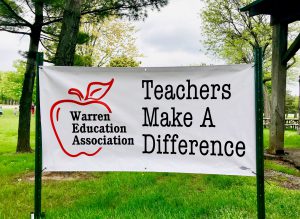 The two local associations joined forces this year for an end-of-year Family Day earlier this month that drew nearly 400 members and their families. The free event for local MEA members featured t-shirts, food and drinks, music, games, face painting, and a photo booth.
"Teachers give and give to other people's kids and sometimes it comes at a cost to their own children at home," said Warren Education Association Vice President Lisa Sikoski. "This day is for teachers and their kids – to say thank you for doing what they do on a daily basis."
Participants enjoyed petting and feeding farm animals and strolling through a bird exhibit, in addition to munching on cotton candy and custard served out of a fire truck. The event was made possible in part by a grant from MEA's Building Full Capacity Locals initiative.