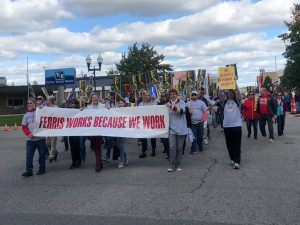 After nearly five months without a new contract, the Ferris Faculty Association (FFA) reached an agreement with the Ferris State University Board of Trustees.
The agreement was the result of a strong campaign of continuous pressure on the board and university president, which included a one-day strike on the first day of classes. Other actions by the FFA included informational picketing at various university events and sit-ins at the office of the university president.
FFA President, Dr. Charles Bacon expressed his "profound appreciation to the faculty, staff, the MEA, and students for their unwavering support during this challenging negotiation process."
The FFA leadership and bargaining team was supported by MEA staff from across the state who served as the local's Crisis Assistance Team. Communications staff from the MEA Public Affairs department, lawyers from the MEA Legal department, and Research staff all contributed to the effort. The five-year contract included the bulk of the FFA Bargaining Team's proposals and was overwhelmingly ratified—with 98 percent supporting—by the membership on November 9.