Several MEA member art teachers and their high school students blended artistic talents with ideas related to financial literacy, a topic not usually associated with beautiful visual imagery, in a contest hosted by Oakland County Treasurer Andy Meisner.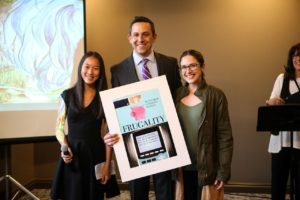 Three Oakland County students from each grade level 9-12 were awarded scholarships for their winning entries in the annual Financial Literacy Multimedia Art Contest. The contest aligns with benchmarks in the state's financial literacy curriculum.
Themes addressed by students included taking responsibility for personal financial decisions, making financial decisions by systematically considering alternatives and consequences, developing a plan for spending and saving, and developing a financial plan.
Meisner applauded the work of art teachers who found time to incorporate the contest into the many demands they face.
"As the son of a public school teacher and the product of public schools myself, these dedicated professionals are close to my heart," Meisner said. "We owe them a debt of gratitude not only for helping make this contest a success but for the work they do day-in and day-out to help position our future leaders for success."
MEA member teachers who participated were Leigh Wright, Avondale Schools; Angela Esshaki, Bloomfield Hills Schools; Jamie Slot, Brandon Schools; John Watson, Clarenceville Schools; Susan Chapman, Birmingham Schools; Melissa Wilson, Lake Orion Schools; Diane Heath, Stoney Creek High School; and Heather Kelly, Troy Schools.
The contest is produced in partnership with Flagstar Bank, Oakland Schools, and the Oakland Livingston Human Services Agency. Student artwork is displayed in the Treasurer's office for one year and included in an online art gallery on the Treasurer's website.