Elizabeth and Jeffrey Symons teach severely emotionally impaired students at Flint's Whaley Children's Center, helping young people from K-12 learn while also recovering from traumas experienced during their young lives.
Over the weekend, the educators received some healing of their own.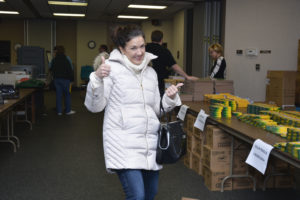 The two MEA members were among 140 educators who received free bags of classroom supplies purchased with donations from union members across Michigan and the U.S. The goods distributed Friday and Saturday will offset more than $2,000 the couple spends out of pocket each year on their classrooms, they said.
"It's helping us cope better finally, just to know people care for us all over the country," Elizabeth said as she picked up an empty bag to "shop" for supplies. "It feels like we're getting big hugs today."
One year ago, as the Flint Water Crisis became national news, donations of bottled water flooded into a school warehouse in response to lead contamination caused by a switch in the city's water supply. The MEA Classroom Supply Drive started last fall to address a long-standing shortage of basic supplies compounded by the continuing water problems.
Like many educators at the distribution event, Southwestern Classical Academy science teacher Jarrett Trombley said his meager supply budget from Flint Community Schools disappears quickly – once he buys paper for copying classroom handouts and ink cartridges for his printer.
His students would be the true beneficiaries of the supply drive, he said. "This means when my students need a pen or a pencil to work with, I have them. Need paper? Got it. A highlighter? Right here."
Seventh grade math teacher Bev Hilliard gasped and fanned her face when she saw a large meeting room displaying a vast array of brand new goods available for the taking. Nearly $40,000 in donations were used to purchase items at discount from Meijer and Staples.
"I'm so overwhelmed that people who don't even know us have donated money of their own accord to help us out," Hilliard said.
[Classroom Supply Drive will help Flint Students Give Back to Indiana Sister School]
Angela Ascencio-Mindlin said she was "literally speechless" at the outpouring of help. The math instructional specialist at Durant-Tuuri-Mott School said her "dream" was to find a file organizer, and she left with two different kinds – in addition to colored pencils, crayons, tissues, disinfecting wipes, sticky notes, scissors, glue sticks, and more.
"I'm the math instructor, so I'm a problem solver – right? I was not expecting I would need to problem-solve how to carry all of this stuff outside."
Before entering the distribution site at the Flint MEA field office, educators took two pre-addressed thank you cards and wrote personalized notes of appreciations to donors from all over the country.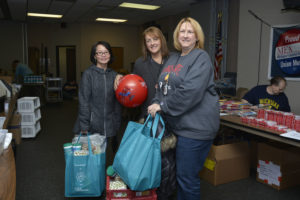 "God will bless you for your glorious efforts," wrote Vishaun Ezell in sweeping cursive handwriting. A career and technical teacher at Southwestern, Ezell said she spends her own money "all the time" to make sure kids have materials they need to create class projects.
Most of Flint's neediest students come to school without even paper and pencils of their own, a yawning gap that school employees can feel alone in trying to fill, said Marybeth Walworth, a high school special education teacher.
"To know there are people out there that support what we are trying to do makes it easier for us to help kids," Walworth said.
Terry Mitoraj said her first-grade students at Pierce Elementary School would be so excited to receive new crayons that she planned to have them write about their gratitude.
"Flint has been beaten up, and it's nice to have something like this to pick us up and make us feel good," Mitoraj said.
Members of the Student MEA and MEA-Retired organizations assisted with the distribution.