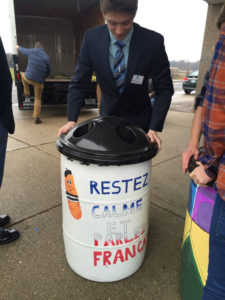 One year ago, in the midst of the city's lead-tainted water crisis, Flint Southwestern Academy received help from its sister school in Indiana. Now Southwestern students will return the favor—with help from donations to the MEA Classroom Supply Fund.
Juniors and seniors from the International Baccalaureate (IB) school in Flint will travel to Goshen, Indiana in late February to read children's books to elementary students and donate the reading material to classroom libraries there, said Sherry Mockles, an instructor and IB Diploma Program coordinator at Flint Southwestern.
Mockles eagerly dug through donated children's books at an MEA-sponsored classroom supplies distribution on Friday and Saturday, made possible by nearly $40,000 in donations from union members across the U.S. since last fall.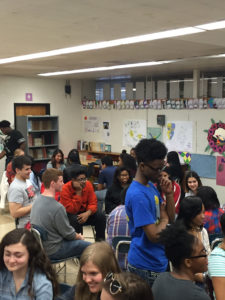 "This gives our kids a chance to give back, so they don't always have to be on the receiving end of someone else's service," Mockles said.
Last year, students at the IB sister school in Goshen wanted to donate bottled water, she said. Instead, staff members in Flint encouraged those students to use their resources to buy something else in great demand – recycling containers.
"We had empty plastic water bottles piling up everywhere," Mockles said, and the Indiana students came through with 40 giant drums to be placed in classrooms and other areas throughout the school – beautifully painted and decorated.
Those drums were delivered by juniors and seniors from Goshen High School last March. The trip from Flint Southwestern to Goshen on Feb. 23 will be a reunion for the seniors and will introduce a new group of juniors to each other, Mockles said.
"We want to keep this partnership going," she said.