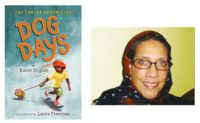 It's not too late to sign up for a free webinar with Coretta Scott King Honor Award-winning children's author Karen English – who will talk about her book series "The Carver Chronicles" for children in grades 2-4.
The webinar also features an experienced classroom teacher who will present a lesson for participants to use with the book. The webinar is scheduled for 7-8 p.m. Thursday Oct. 13. Click here to register or learn more.
The event is part of a series of webinars offered by the NEA Teacher Quality Department and Houghton Mifflin Harcourt. Teachers in the first few years of their careers are encouraged to participate. Prizes will be available.