Bus aides in Grand Rapids concerned about working conditions and a lack of job training have secured union representation for the first time with a unanimous vote to join the transportation unit of the Grand Rapids Education Support Professionals Association.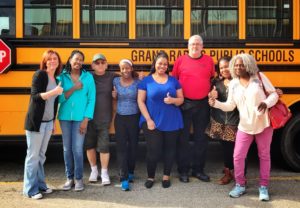 In an unusual twist to the story, the bus aides will join the only MEA unit representing employees of private contractor Dean Transportation. Grand Rapids privatized transportation services in 2005. An ensuing lawsuit by GRESPA-T led to a favorable court ruling that retained MEA representation.
The aides, however, were not historically part of that unit. They began organizing in January for last week's 8-0 vote, certified by the National Labor Relations Board.
Bus aides typically accompany students with disabilities on transportation routes to and from school, a job description that can involve helping children who use adaptive equipment, such as wheelchairs, or assisting with special education students who have cognitive or behavioral challenges.
Without proper training, the aides were concerned about students' safety – and sometimes their own. Confusing legal questions arose with parents demanding employees follow an Individualized Education Program, or IEP, that the aides had not seen. Other concerns that led to the unionization effort included employees being threatened with dismissal if they tried to call in sick.
The stress and worry of the job led to high turnover among the aides, especially given their low pay.
"I was determined to obtain union protection for myself and my fellow Grand Rapids Bus Aides," said Tamela Lett, who pushed for the vote. "I look forward to negotiating the salary and working conditions as the bus aides are accreted to the GRESPA-T contract."