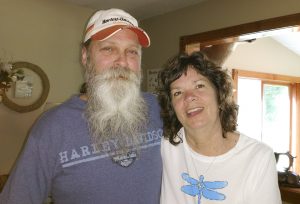 Rennee Alderman has worn different job titles in Cadillac Area Public Schools – recess aide, paraprofessional, secretary – but for MEA member Heidi Stange the most important role Alderman played over the years is "friend."
Stange is now an instructional literacy coach for the district, but for many years she was a Title I reading specialist with Alderman tutoring kids alongside her. Children loved Alderman, Stange said, but so did adults—she brightened the lives of everyone with her cheery attitude and habit of calling everyone "Sunshine."
"We're providing her some sunshine now," Stange said.
Alderman was forced to retire after 25 years in the district when a mystery illness zapped her energy and mobility – leaving her in constant pain. She has since been diagnosed with Lyme Disease, but treatments are not covered by insurance – so Stange has organized community fundraisers to rally some help.
Their story is yet another example of union members taking care of each other. Associations across the state routinely come together to take care of their own, as in Algonac, where members raised money and volunteered labor in a Habitat for Humanity home build for a member; and in Adrian where members donated to a union-administered sick day bank to help a new mom whose baby needed open heart surgery.
It wasn't easy to convince Alderman to accept assistance, because she's used to being the one caring for others, Stange said. Over the years, Alderman organized countless potlucks and supply drives to help families in need in the community.
More than $7,000 has been raised through online donations and t-shirt sales to help Alderman and her husband Doug, who works at a local tool shop, pay for medical expenses. And Stange has organized a Sept. 30 community event, featuring food, carnival games, and a silent auction – with dozens of donations from local businesses – with proceeds going to the family.
As a recess aide, Alderman had a special connection with children that teachers noticed. "She never thought she had the skills to be a parapro, but we saw something in her, the way she interacted with kids, the way she built relationships that made them feel confident," Stange said.
She soon flourished as a paraeducator for many reasons: she could read kids well; she made children feel safe; and she was reflective and open to feedback on how to improve her skills, Stange said.
It's the reason why former students are returning to give back to Alderman now, Stange said. "We're seeing kids coming back for fundraisers who had her in first grade, and now they're out of college."