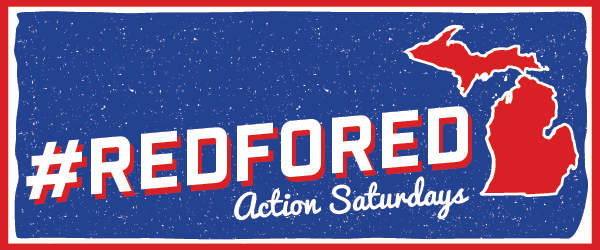 Across the state, MEA members are still excited about the #RedForEd movement we've built in Michigan. After the success of the "Wear Red Wednesday Walk-Ins" in the spring, thousands of MEA members continued to wear red every Wednesday straight through the summer and as this new school year kicks off.
But while this red-clad show of solidarity and pride in public education is important, it's not going to bring about the change we need. That change comes at the ballot box on November 6, when we elect friends of public education to lead our state, beginning with our recommended candidate for governor, Gretchen Whitmer.
To get that done, we need MEA members to get engaged in this fight for the future of our students and our schools by doing three things:
Keep wearing red every Wednesday through this election season to show that we're united in our focus to elect true friends of public education in November.
Wear Red Wednesdays are now Whitmer Wednesdays when we're asking you to talk with your colleagues about the importance of this election and voting for Gretchen for Governor. To facilitate that, we've set up a virtual phone bank that launches tonight and will run every Wednesday evening through Oct. 24, allowing you to make phone calls to fellow MEA members from the comfort of your home. It's easy and fun – all you need is a phone and an internet-connected computer or tablet – to get started tonight or any future Whitmer Wednesday, just go to www.mea.org/phonebank.
Starting this Saturday, MEA and AFT Michigan are holding a series of #RedForEd Action Saturdays when educators will unite together and hit the streets in support of pro-public education candidates. We'll gather to hear from our candidates and get trained on the best way to talk with voters, and then we'll head out to knock on doors and make calls to share why voters need to support public education at the ballot box. Events will be held every Saturday in locations across Metro Detroit and the rest of the state – click here for more information and to RSVP (you'll even get a special #RedForEd t-shirt for participating).
#RedForEd isn't just about wearing the same color. It's about standing together for the change we need – and in our state, we have the chance to make that change in this election. Join us and together we can win for our profession and our students.