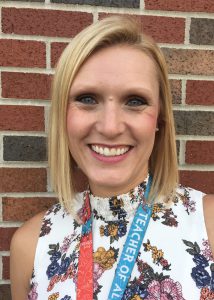 Katie Condon: 5th-grade Teacher, Saginaw Public School District
Years in education: 5
Type of non-union experience: Three years at a charter school
What was it like working in a school without a union? When I first started working at the charter school, it wasn't that bad. I had the assumption that I was going to be taken care of and cared for. My first was a good learning experience, but when my second year started I grew more concerned. I started noticing little changes throughout the building and attitudes toward others shift. I was concerned; I started to feel as though I lost my voice in the school. I felt lost, because I was the voice of the students and I wanted them to be heard. It wasn't just about me, it was about the students and if they were getting what they deserved and needed. When my third year was about to start at the charter school, things started to really turn. They decided to change my grade level about 10 days before school started. It was a change for me and I really started to realize that nothing I say will change what they want in the end. I was discouraged and concerned for the students.
What specific experiences illustrate the difference between working with and without union bargaining/representation/protections? While working for the charter school, I didn't feel valued. I had a voice that wanted to be heard for those students and it wasn't because (owners/managers) had other plans. Their plans are more personally related to them than what is best for the students and their needs. Now in my second year at a public school, I feel that my voice is being heard and that we are doing what is right and just for the students that we serve. Where I am now, my students are not just my students; they are our students. That is what I did not feel at the charter school, the family atmosphere. It was a job.
What benefits and protections do you have now that you didn't have in your previous place of employment? I feel as though I am able to stand with my fellow colleagues, and I didn't feel that before. Before I felt that anything I said or did would have repercussion later, whether it be the next day or in three months from then. It was always coming. I feel safe now. My/our voice is being heard and those students are getting what they need and deserve every day that they walk into the school doors.
Based on your experiences, what would you say to educators who opt out of the union or choose not to pay dues? I believe that the union is anyone's choice, but I have seen what the benefits are from having a union. There is someone there to back you up at all times. Someone to talk to if there is a conflict, and they don't judge. They try to help and solve the disagreement. The union is there to help and support the teachers.
Why do you belong to MEA/pay dues? I belong to a union because I believe that teachers' rights should be represented fairly. I belong to a union because I believe that a safe, fun, and loving work environment should be protected. I belong to a union because I believe that teachers are valuable and should be treated in that manner.