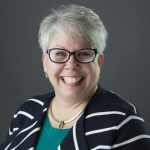 September 20, 2017
By PAULA HERBART/President – Michigan Education Association
In this fast-paced, information overloaded society, individuals are longing to be heard. Educators are especially eager to share their thoughts, their hopes and their frustrations.
That's why my first order of business as MEA's new president was to embark on a "listening tour" so I could hear from the experts on the front-lines who know best what makes public education work.
Along with Vice President Chandra Madafferi and Secretary-Treasurer Brett Smith, we want to make sure teachers and support staff (the unsung heroes in public schools) have their voices heard. Together we are hearing stories from members, learning why they do what they do, and what support they need to ensure a great public education for every student.
One of their frustrations is the insatiable appetite policymakers have for standardized testing. At a stop in Traverse City, we heard from teachers exasperated by the multiple standardized tests mandated by the state, which have eaten away at carefully planned curriculum. Some tests take several days to complete, while teachers are pressured to teach to the test which consumes many additional instruction days. A common refrain we heard from educators was, "more testing means less teaching."
Click here to read the entire article