Whether it's at the bargaining table or the halls of the Capitol in Lansing, MEA's power resides in the unity of our members – and association leaders from across Michigan are joining up with MEA staff to build capacity in our largest units.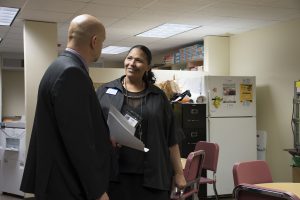 Membership blitzes have been held in Grand Rapids, Utica, Flint, and Pontiac, and more are planned in Ann Arbor and elsewhere. The events show new educators the value of membership and allow potential members the chance to ask questions and share concerns.
MEA offers a wide array of services and benefits: contract negotiations, job protections, legal assistance, professional development, policy advocacy, social justice activism, and member discounts at local, state, and national retailers/restaurants/hotels – plus so much more.
For many new and potential members, all they need is to be asked – who they are, why they do this work, what they need – and they will join.
That's why we all must talk with new hires in our buildings and with colleagues who've opted out or stopped paying dues. Our experience shows that people want to belong and feel a part of something bigger than themselves – especially once they understand all that MEA offers and what's at stake if anti-union forces succeed in weakening or destroying us.
Our members are proud to belong to one of the very few organizations standing up to protect and defend public education against the constant barrage of attacks by those seeking to privatize and profit from our education system.
As labor and political leader Eugene Debs once said: "What can labor do for itself?  Labor can organize, it can unify, it can consolidate its forces.  This done, it can demand and command."