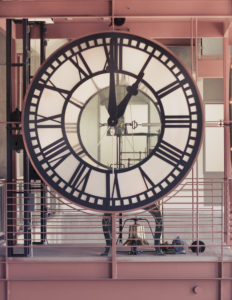 There's no ancient curse, no flashlight-carrying night security guard, no T. Rex skeleton playing fetch or wax-figure Teddy Roosevelt shouting "Bully!" This is not Night at the Museum, the movie in which exhibit inhabitants awaken and cause mischief.
But there is new life in the Grand Rapids Public Museum (GRPM) these days—in the form of permanent sixth- and seventh-grade residents.
About 120 middle schoolers go to school every day inside the three-story museum, which includes access to a portion of the museum's 250,000 artifacts, a planetarium, and traveling exhibits such as "Whales: Giants of the Deep," on loan from New Zealand through April 15.
It's a new middle school, part of Grand Rapids Public Schools, with classrooms staffed from the start by MEA members willing to take a leap of faith right along with the students and parents who applied for lottery-picked seats when the unconventional school opened in fall 2015.
"I walk in here in the morning, and I think to myself, This is magic; I work in a museum," said GREA member Abbie Marr, a 12-year teaching veteran who eagerly applied to be one of the first sixth-grade teachers at the school.
The overarching goals of the ambitious project: providing experiential learning opportunities that cross traditional subject area boundaries and help students see how to put knowledge to use. In particular, the school's curriculum joins place-based education with design thinking.
"If you stop and think about the really awesome moments of learning you've had in your own experience, they probably weren't happening at a desk, or inside of a textbook, or on a worksheet," said GREA member Kim Rowland, a sixth-grade teacher and curriculum integration specialist at the school.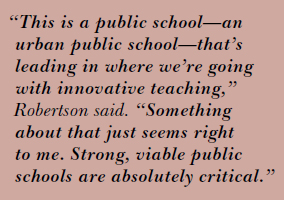 That's not to say students never learn from a textbook or receive instruction from a teacher. The school boasts six state-of-the-art classrooms equipped with Smart Boards and iPads. However, the curriculum takes advantage of surrounding resources to bring learning to life.
For example, a recent lesson about the "characteristics of culture" included readings and discussion about definitions of elastic, dynamic, integrated, learned, adaptive, and shared cultures. But then the students walked down to the museum to hunt for examples of the terms.
They explored wide-ranging exhibits to apply what they had learned, from an Egyptian mummy, to Native American relics, recreations of old-town Grand Rapids, and artifacts from the city's heyday as a center of furniture manufacturing—taking photographs and creating presentations to connect and communicate their findings.
To demonstrate "shared" culture, sixth grader Elitta Witte photographed a handmade basket used by Native American women to store newborn babies' umbilical cords, which were saved as protection and symbolism, and eventually buried with the body at the end of life, Witte said.
"I told my mom that, and she didn't believe me," Witte said, adding she enjoys learning from artifacts—especially when allowed to explore. "It's like we have the best tool right where we are."
The school launched with one grade, added another this year, and will host sixth through eighth graders by next fall. After that, a museum high school will be opened in a separate building—the old site of the GRPM, which still houses 90 percent of the museum's archives in storage.
The project took a dramatic turn in September, when the district and its community partners learned the high school initiative under development was one of 10 entries from among 700 nationwide to win a $10 million grant, funded by Steve Jobs' widow Laurene Powell Jobs, known as XQ: The Super School Project.
"Winning this prize has to go down as one of the top events in the 162-year history of this museum," said CEO Dale Robertson, who hatched the original concept of a grades 6-12 museum school six years ago while running in a club with GRPS School Board President Tony Baker.
"This is a public school—an urban public school—that's leading in where we're going with innovative teaching," Robertson said. "Something about that just seems right to me. Strong, viable public schools are absolutely critical."
Students will be chosen by lottery to attend both the middle and high schools, an important aspect of the school's operating plan, said Museum School Principal Chris Hanks.
"I feel strongly that the best schools are those in which students from very different backgrounds and different sets of experiences come together to learn in a high-quality environment," Hanks said. "Unfortunately as a society we're moving farther away from that ideal."
Because there is no testing requirement to get in, the middle school houses students with Individualized Education Plans (IEPs) and 504 plans, those who are testing below grade level in reading and/or math, and students who are achieving well above grade level.
Teachers at the school face the same challenges of educators elsewhere: how to reach all learners wherever they're at and move them along in their development, Marr and Rowland agreed. In addition, the staff has been challenged to create a new curriculum from the ground up.
It's frightening to wade into unknown territory at a time when teachers are being evaluated based on ever-narrowing criteria, such as students' standardized test scores, they said.
"It's hard to be building the plane while trying to fly it and reading the owner's manual," Marr joked.
Marr spent all summer planning lessons in a project-based unit that only ran through November. Constant planning and responding to student work carries into most nights and weekends. Sometimes, hours are spent designing a lesson plan that fails.
"There are moments when we look at each other and say, 'We did not sign up for this,'" Rowland said.
And the national spotlight from the as-yet-unopened high school's $10 million prize brings additional scrutiny and high expectations, the teachers agreed.
Yes, it's exciting to have the museum's resources available every day, and community partnerships make all sorts of learning opportunities possible, the teachers said. But the limitless nature of the museum's collection, plus outside resources, also can be overwhelming, Marr said.
"We could do a million different things with so many resources at our disposal," she said. "We just have to try to choose what is best for the kids."
Yet both women appreciate being encouraged to grow their teaching practice, engage students in their interests, and help students learn how to solve problems. That kind of growth only occurs when someone feels safe enough to risk trying new things, they said.
"I love the kids, and I love teaching to the core of my being, but in so many places now it's so punitive to take risks," Marr said. "Here we have a lot of autonomy, and we have a lot of support. Failure is welcome here. It's a blessing."
As more grades are added each year and the high school opens, the school's curriculum and lesson plans will be made available to other schools, Principal Chris Hanks said. Students will be involved in community issues and problem solving.
High school students will have access to tens of thousands of items in the museum's storage, and will become part of the curation process, learning how to care for the museum's holdings and design exhibits that tell a story through artifact displays and signage.
The new high school in the old museum building known as the CARC (Community Archives and Research Center) will include classrooms, small-group meeting spaces, and large event spaces intended to blur the boundaries between school and community, Hanks said.
The $10 million prize will be allocated over five years to redesign the facility, install technology, and design the curriculum. Already, the rigors of the competitive process honed the vision of the school and strengthened the partnership between GRPS, Grand Valley State University, Kendall College of Art & Design, the city of Grand Rapids, and the business community.
"We want to be a model of what's possible in education and to share whatever we learn here," Hanks said