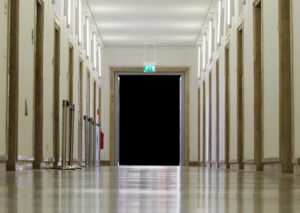 MEA is moving forward with a multi-pronged response to state threats of school closures in a number of Michigan communities – mostly in high-poverty areas – which have prompted fear and outrage among school employees and parents.
Our lobbyists will be actively supporting a bill to repeal the so-called "failing schools law" that is driving potential building closures. Sen. Phil Pavlov (R-St. Clair) introduced Senate Bill 27 to eliminate a "chaotic" and "deeply flawed" process that has not improved academic achievement.
"In the six years this law has existed, it has produced more questions than answers and more controversy than solutions," Pavlov said in a statement. "The initial goal was laudable: improvement of the state's worst academically performing schools. Yet the evidence raises serious doubts about whether that has been accomplished."
MEA members can help by contacting local legislators to encourage their support of Pavlov's bill, and by asking parents and other community leaders to get involved.
Adopted in 2010 to compete for federal grant money, the current law requires the Michigan Department of Education to issue an annual top-to-bottom ranking of schools based on test scores. Schools listed in the bottom 5 percent for three consecutive years are at risk of closure.
Last week, the state's School Reform Office (SRO) issued the list of 38 schools at risk of closure as soon as the end of this school year – a list dominated by communities with high concentrations of children and families living in poverty.
"It begs the question whether there isn't a better accountability system, one that does more than simply flag high poverty schools," Kalamazoo Public Schools Superintendent Michael Rice told reporters after the list came out with two KPS schools included on it.
Under the looming threat of school closures since last summer, MEA has been working with a number of organizations and stakeholders to fight back against ill-conceived policies that do nothing to serve the needs of children in struggling communities.
The group's strategies will include legal action if school closures are ordered.
"MEA supports adequately funded, high-quality public schools and respect for community control," said MEA General Counsel Mike Shoudy. "Closing neighborhood schools is bad for children, families, and the employees who serve them.
"MEA will take any and all appropriate legal action to protect the educational opportunities of our students and the employment rights of our members."
State School Reform Officer Natasha Baker has said the SRO will conduct a 30-45 day review of the 38 schools to determine if closing them would present "unreasonable hardship" to parents and students. A "comprehensive report" will be issued after the review.
However, Baker told The Detroit News that parents with children in the 38 buildings at risk of closure already "have been made aware" of other school options.
Affected schools were not told the state was sending letters to parents with lists of other schools where they could enroll their children – a move that came three weeks before the Feb. 8 count day that will determine school districts' funding levels, said KEA President Amanda Miller.
Kalamazoo school employees and parents alike are worried about losing two neighborhood schools, Washington Writers' Academy and Woodward School for Technology and Research, where staff members are working hard to implement locally developed improvement plans, Miller said.
"They're worried about their students' futures… and they're mad because the state is basing decisions on tests that are really only good at determining if kids are living in poverty or not," she said.
In Pontiac, educators joined with parents and students in a rally last week to save Pontiac High School and Whitman Elementary School from the chopping block. Through sacrifices made by teachers and support staff, the Pontiac School District has made tremendous gains erasing debt the last few years, said Aimee McKeever, PEA president.
The cuts to wages and benefits have led to significant turnover in teaching staff, which makes it harder to show gains in standardized test scores, she added. "However we are seeing gains in student achievement that are not always measurable on standardized tests."
Another factor inhibiting progress in Pontiac schools is the substantial proliferation of charter schools in and around the city, which drain resources away from traditional neighborhood schools without improving outcomes.
"For those who advocate choice, like Betsy DeVos, who claim public schools like Pontiac are failing, it becomes a self-fulfilling prophecy when you take away huge chunks of funding from our students," McKeever said.
In Benton Harbor, community members are attending local town hall meetings to brainstorm ways to stop the state from closing three of five schools in the district. Under a consent agreement with the state, the district hired a new superintendent last year who has begun making improvements.
One of the Benton Harbor schools slated for closure, the Dream Academy, was a low-performing for-profit charter school until losing its charter authorization and abruptly closing last June. Benton Harbor schools absorbed that building just last fall.
In addition, a consolidation of buildings and grade-level realignments last year means the Benton Harbor schools named on the list are not even educating the same grade levels as before, said MEA UniServ Director Lou Ann Vidmar. For example, the STEAM Academy at MLK is one of the schools listed, even though it now houses only kindergarten through second grade – students who do not take state-mandated standardized tests.
"They're comparing test scores that don't even apply anymore," Vidmar said.
Of the 38 schools on the list, 24 are located in Detroit Public Schools Community District or the state's Education Achievement Authority which took over management of some low-performing schools in Detroit. Other districts with schools on the list include Saginaw, Bridgeport-Spaulding, River Rouge, and Muskegon Heights.
Another 79 schools were removed from the list due to academic gains.
Stay tuned to Capitol Comments and MEA's Facebook page for the latest updates on this issue.