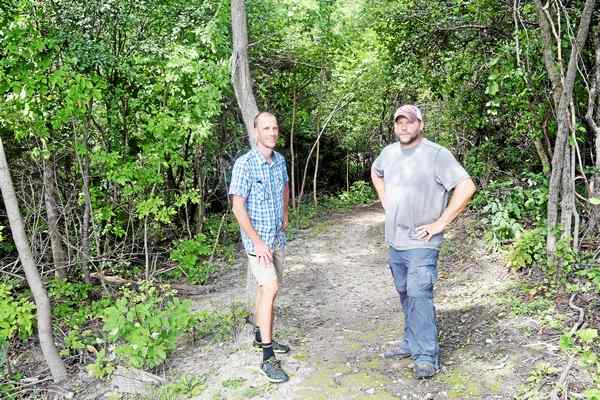 Two Holly High School teachers have brought their deepest beliefs about learning to life.
Holly Education Association members Josh McCreedy and Michael Rapin have spent more than 1,000 hours over the past two years clearing trees and building small wooden bridges to create a community bike trail in wooded district-owned property behind Holly High School.
The two teachers wanted to provide outdoor learning opportunities for students, as well as create an accessible place for the entire community to participate in physical activities and enjoy the outdoors.
"We've both had some formative experiences in nature and wanted to create opportunities here," McCreedy said.
Research shows that time spent in nature reduces stress and improves students' performance in creative and problem-solving tasks, said McCreedy, who teaches Spanish, English, and Leadership. The trail crosses wetlands and a lake, the perfect site for active watershed studies, but any subject could benefit from being taught in an outdoor classroom, he added.
"We have already seen teachers in a variety of content areas take kids outdoors to learn," McCreedy said. "Teachers have to be brave and clarify expectations for the experience, but students tend to shine in this type of learning."
In addition, the trail is mountain bike optimized. That means it has been designed to the standards of the International Mountain Bike Association, with berms, rock features, and other challenges built in to make it fun for mountain bikers – even though it will be open for hiking and jogging, too.
Both teachers are experienced cyclists, hikers, and trail runners, so they're happy to see traffic from people on foot and non-motorized vehicles alike. Trail etiquette and clear communication is encouraged, they said.
Eventually, they hope to host a race in the student-only mountain bike racing series sponsored by the Michigan Scholastic Cycling Association. The pair has collected and inherited bikes over the past five or six years, and now have a stable of 20 bikes they can loan out to students.
"This is key, because we have many students in need, and a lot of bikes marketed as mountain bikes really aren't built for the demands of mountain biking," said Rapin, who teaches Math, English, and Leadership. "We provide a free, safe bike for students to use until they can save up money for their own rig."
The 3.12-mile trail is divided into two loops. The Campus Loop is an easier ride of 1.6 miles along the outside of the developed areas. The Lake Loop runs through the inside of the forest and around a nearby lake, a 1.5-mile stretch of more challenging twists and turns for more experienced cyclists.
Building it was a long and complex process. First, they had to develop a plan for the district's administration to approve. Once plans were approved, they spent winter months figuring out property lines and marking a trail corridor through the brush and trees.
The first clearing work was done with chain saws and hoes to dig out saplings and brush. Once a path was clear, they used a Ditch Witch SK 750 to cut a "bench" or flat surface for the trail thread to follow, so steep hills would not create erosion. They hand finished with rakes.
"The work is physically grueling, especially on 90-degree days, but it's some of the most satisfying work we have ever done," Rapin said.
McCreedy and Rapin do not take all of the credit for the trail. Hundreds of students and many other teachers helped with trail building, and businesses donated services. The Holly Education Foundation awarded them grants two years in a row.
In the near future, several benches will be installed as the result of an Eagle Scout project, and the Class of 2016 has donated some of the funds that will be needed to build a pavilion for outdoor classroom space.
A dedication ceremony is slated for 5 p.m. today that will include a ribbon-cutting, speeches, group walks and rides, refreshments – such as cider, donuts and apples – and lots of thanks and congratulations for a difficult job well done.
"The mission of education is to help people achieve their fullest potential," McCreedy said. "We're helping our students lay a foundation for health and well-being for the rest of their lives. This trail is our attempt at doing exactly that."