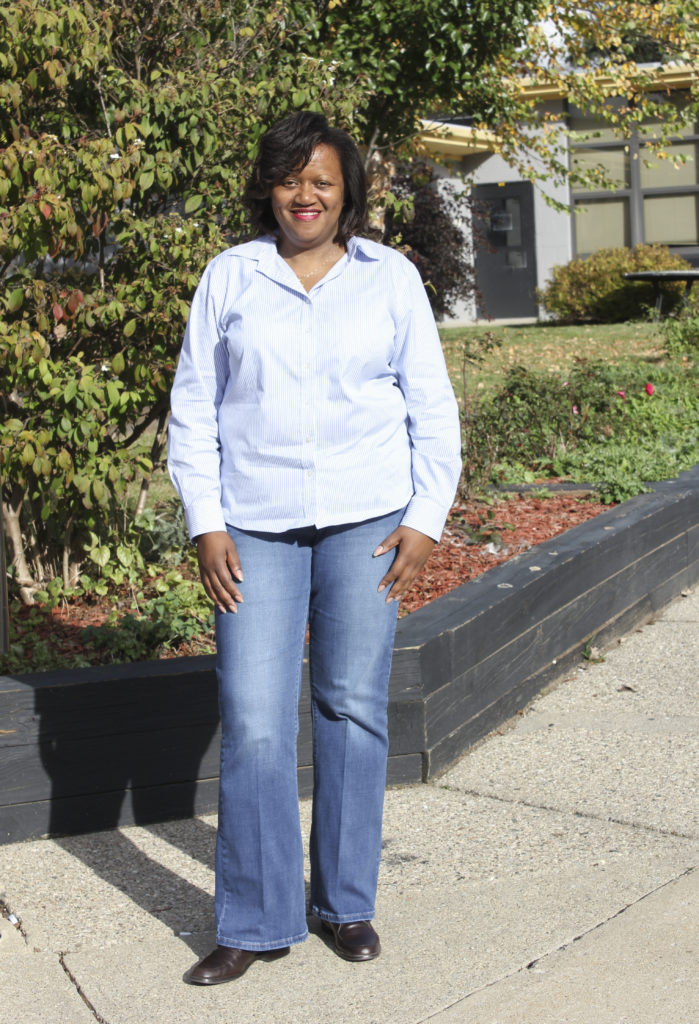 What does your job entail?
I'm responsible for the safety and security of the building, so I go around and check the doors and everything like that. Then I'm the counselor, the therapist, whatever the kids need. Some students feel more comfortable speaking to me than a social worker or behavioral specialist, so I help them or direct them to get the help they need. We have a RAHS (Regional Alliance for Healthy Schools) clinic here, which is affiliated with U of M, so I'll usually direct them there.
What kinds of problems do kids come to you with?
Students confide in me about a lot of personal things… I had a student come to me who was in an abusive relationship, and her mom was in an abusive relationship, so she would tell her mom, "He's beating on me," and her mom would say, "Well, it's because of what you're doing." So I had to reiterate: "It has nothing to do with what you're doing." As we continued to talk, I found out that it was generational—her grandmother had been abused—and that's when I told her, "This is a pattern, and you need to go get help to get out of the relationship." I just told her you have to go to Safe House… I set it up and had her call, but I sat with her so she would feel safe.
How do you handle it when you try to help students but they keep making poor choices?
Before I came to Ann Arbor, I lived in Maryland, and I worked for 2½ years in the Department of Juvenile Justice in the biggest detention facility in the state—Cheltenham. There you can teach with a degree (and I have a degree in business management and I was working on my certification for teaching). I made my classroom very inviting, and I thought I'm going to save these kids—back then I was 27—so I was young. One day literally walking down a hall, the light bulb came on and said, "Crystal, you can't save everyone." And I got it. So those who want help, I help them. Those who don't want help—I accept it, because not everyone wants to be saved.
Business management? Where did you get that degree? And why?
I went to Morgan State University in Baltimore, and—oh my goodness—since I was a kid I wanted to have my own business and I pictured myself all dressed up in a suit with a briefcase and heels. After I graduated, I worked in Taco Bell hell—that's what I call it, because that's what it was—as an assistant manager. After I left there, what made me go into education? I was watching a program on TV—I'll never forget—a young man was shot and he died, and I said to myself Our kids are not lost. No way are they that lost. That brought me into working with kids.
Three years ago, you became a homeowner—a dream-come-true for you and your two sons—thanks to Habitat for Humanity, your sweat equity, and volunteers. What was that like?
It was the best experience ever, such a blessing to me. I met a lot of nice people. Then I had women from Growing Hope come back later and help me learn how to garden. They come right to your house, and they give you the seedlings, and you have to do all the work, but they teach you, so I have nice flowers, and I am now a vegetable gardener. When I'm asked what I like best about owning my own home, I say: "The peace. It's peace and quiet."
They say it takes a village—how does that idea come full circle in your work at Pathways?
Something we do here that's different is we started an etiquette class that I help teach, where we use the book White Gloves and Party Manners and we have a tea party. The girls are very open to learning, and the day of the tea party it's so nice to see how they get all dazzled up. We had a student that normally would be wearing jeans, and she came in for the tea party with a dress on and her hair flat-ironed. And I'm like "Is that you? You look so pretty!" Her face just blossomed. That's when my heart is happy. That and when I see the students graduate. That is the biggest joy—to see the ones who struggled but they made it and they graduated.