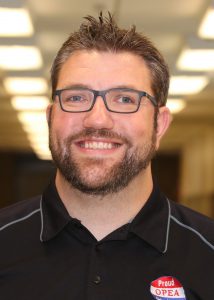 Michael Adamisin: 9th-grade Science Teacher, OPEA President, Oak Park Schools
Years in Education: 6
Type of non-union experience: One year at a Detroit-area charter school
What was it like working in a school without a union? In a word… unnerving. The year I was there saw >50% staff turnover from the previous year, all replaced with low-wage Teach For America candidates with little to no actual experience in education (all done in an effort to keep salary costs down and profits up). Benefits were paltry, even when compared with what I left at DPS when I changed districts to the charter school. There was no codified "pay scale," employees were paid as little as possible (especially when compared to public school counterparts) and the raises paled in comparison with those seen in public districts. Teachers were often strong-armed or berated about under-performing on assessments and, at the end of the one year I spent, ranked and promptly "non-renewed" if they fell below a certain threshold for performance. There was no process for redress, no codified grievance procedure if there were issues with on-the-job actions or normal "contractual" issues or the like, and really no ability to advocate for oneself if any problems arose.
What specific experiences can you point to that illustrate the difference between working with and without union bargaining / representation / protections? As I said above, there was no codified (or even understood) policy for teachers to grieve any issue with administration or seek redress for the continuing push by administration for "more work for less." Teachers in my building often had 4-5 different preps each semester with, at most, one planning period to accomplish all of the grading, planning, parent phone calls, etc. that was expected of them for all of their classes. Also, there was an unwritten expectation to put in extra hours outside of the contractual day—anyone who arrived "on time" in the morning and left "shortly after work" was, at best, marginalized and put on notice with administration and, at worst, targeted for replacement before the next school year. Union contracts guarantee, at their basest level, rights surrounding job duties, expectations, and benefits. Life at the charter school was almost a "wild west" experience where the rules seemed to only apply to those that "played the game."
What benefits and protections do you have now that you didn't have in your previous place of employment? I could go through my contract and list them line by line, but I'll try to sum up—guaranteed grievance procedures for redress of issues, guaranteed and mostly easy-to-understand job requirements and responsibilities, a guaranteed pay scale, assurance that my duties will mostly focus on teaching and not get lost in the minutiae of clerical work that seemed to constantly be levied upon my charter school counterparts; the list goes on. I know that I have a shield that is there to protect me if something goes wrong, and a means to help ensure I'm able to do my job – teach – and have redress if administration goes against the contract and gets in the way.
Based on your experiences, what would you say to educators who opt out of the union or choose not to pay dues? I hate to be blunt, but you (they) are contributing, directly, to the diminishment of public education in this country. Strong unions create strong teachers who aren't constantly being pushed into doing more and more clerical work, testing, and the like in lieu of teaching. It's not about "putting the teacher over the student." like so many anti-union advocates like to parrot; much to the opposite. Strong unions empower teachers to take risks, to push the envelope as teachers, and, dare I say it, be respected as the professionals we are and not simply the glorified babysitters some would like to see us as. Unions are there to advocate on behalf of the teachers for the benefit of the students.
Why do you belong to MEA/pay dues? MEA represents an organization dedicated to glorifying and restoring the profession of teaching and I *fully* support that. Today, it is all too easy and altogether too frequent to bash teachers as "free-loaders" who are "paid way too much"; the MEA fights that false stereotype and provides much-needed protection to teachers against the whims of those who "think" they know the realm of education (often without any formal training or education themselves) better than teachers do.
SaveSave