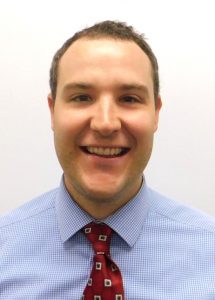 Michael Adams: 3rd-grade Teacher, Holt Public Schools
Years in education: 6
Type of non-union experience: Michigan charter school
What was it like working in a school without a union? It was the worst! Working without a union left me feeling like I had no voice to advocate for students or myself. Teachers were in constant fear that they might lose their job for voicing the slightest objections to working conditions or administrative demands. More importantly, teachers were not as able to advocate for changes to the classroom, which would have benefitted students.

What specific experiences can you point to that illustrate the difference between working with and without union bargaining/representation/protections? Working in a non-union charter school, I was an at-will employee with a one-page contract designed for the sole protection of the employer. I was hired in June with the understanding that the school district would contribute a percentage of my base salary to a 401k. However, on the first day of work in August I was told that the district could not afford it and that deal would not be honored. Even though the 401k plan was written into the contract, there were no mechanisms in place to make sure the contract was honored by the employer.
The district I worked for also had a strict dress code. One of the requirements was that all teachers wore dress shoes. I had a female colleague who taught kindergarten and was pregnant. By her eighth month of pregnancy, her feet had swollen so much that she could not fit into any dress shoes, so she wore tennis shoes. She was written up by the principal and told to put dress shoes on. It was only when teachers banded together "in union" to advocate for her right to wear shoes that fit and were comfortable enough to keep her on her feet that administration grudgingly allowed her to nix the dress shoes for the remainder of her pregnancy.
What benefits and protections do you have now that you didn't have in your previous place of employment? Working under a collectively bargained contract is everything. I have the right to have a say in what goes on inside the classroom and advocate for my students and colleagues. Collective bargaining allows the employer and employee to sit down together and solve problems to the benefit of everyone. My salary, benefits, and working conditions are so much better now. As a result, I feel more valued and take a great deal more pride in what I do.
There wasn't a grievance process at the charter school I worked for. Having the grievance process that is in my collectively bargained contract has been crucial for resolving contractual disputes. So many of the teachers at the charter school I worked for were afraid that they would be punished even while doing their jobs well just because of a personality conflict with an administrator.
 Based on your experiences, what would you say to educators who opt out of the union or choose not to pay dues? I would ask anyone who is considering opting out or choosing not pay their union dues to please come to a meeting. Our union is one of the most democratically organized institutions that I have ever been a part of and good ideas are always welcomed. We want your voice, and everyone has the responsibility to share his or her ideas and get involved. The sad part is I don't think anyone fully understands the day-to-day importance of a union or collectively bargained contract until it isn't there. If you really can't stand the union, there are plenty of charter schools to work for where you will never have to hear about employee rights.
I have become an active member of the Holt Education Association, working on our bargaining team and helping members with contractual issues. Through our collective unity, I have seen our staff successfully advocate for the children and community we serve, as well as public education as a whole.
Why do you belong to MEA/pay dues? There are myriad reasons that I am a proud member of the MEA. The MEA is a fantastic organization, and I believe it represents the best interest of teachers and students alike. On top of providing top-notch trainings to its membership, it stands as a first line of defense for educational employees to collectively bargain a contract. Simply put, the MEA gives its members a voice and has our back.