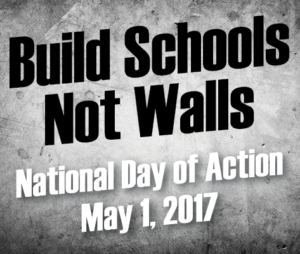 A national campaign to rally supporters of public education kicked off in Dearborn this week, a location chosen by organizers to draw attention to the damage caused in Michigan by the destructive policies of Education Secretary Betsy DeVos.
The highlight of Tuesday's event at Edsel Ford High School were plans to coordinate a nationwide day of action on May 1, expected to attract more than 100,000 people at more than 2,000 schools in 200 cities across the U.S.
The national campaign calling for investment in public education – "Build Schools, Not Walls" – is being jointly coordinated by the Alliance to Reclaim Our Schools, a coalition that includes NEA and AFT in addition to other parent and education groups.
Instead of building a wall that will cost countless billions of taxpayer dollars, President Donald Trump should invest that money in schools where all children – no matter their creed, color, or citizenship status – get a quality education with the best textbooks, small classes, community support services and highly qualified educators.
MEA Vice President Nancy Strachan told Tuesday's crowd that divisive walls, policies, and rhetoric tear at the fabric of our country. We should focus instead on what unites us.
"Our campaign is about uplifting the power of public schools and the power of our students to make this country and our globe a better place," Strachan said.
Strachan was joined at the launch by U.S. Rep. Debbie Dingell (D-Mich.) and AFT President Randi Weingarten, along with representatives from 482Forward, the Arab Community Center for Economic and Social Services, and other community and parent groups.
The multifaceted "Build Schools, Not Walls" campaign will include a variety of digital, in-person and community actions aimed at uniting and energizing the broad base of Americans opposed to DeVos' destructive privatization agenda.