MEA President Paula Herbart is this week's guest on "Off the Record" with senior Capitol correspondent Tim Skubick.  The weekly PBS public affairs show served as Herbart's first major public appearance since taking the reins at MEA on Sept. 1. During her 12-minute interview, she reinforced something she's heard across the state: that policymakers need to listen more to the front-line experts – Michigan's teachers and support staff – about what schools and students need.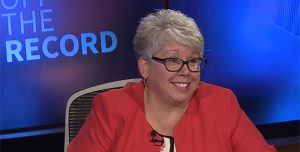 "All policymakers have to listen to those on the front lines," Herbart said.  "(They) are making decisions and policy with public education without having public educators as part of that process."
Herbart discussed the Listening Tour she's conducting with fellow new officers: Vice President Chandra Madafferi and Secretary-Treasurer Brett Smith, as well as the need for MEA to engage with political leaders in both parties to move a pro-public education agenda.
The show airs on PBS affiliates across the state throughout this weekend (check your local listings) or can be watched online.