The state is finalizing partnership agreements expected to keep open almost all of the 38 schools threatened with closure for having low test scores.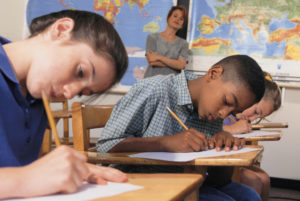 The Michigan Department of Education (MDE) began negotiating agreements to develop three-year improvement plans in the 10 affected districts to prevent school closures announced in March by the School Reform Office (SRO) controlled by Gov. Rick Snyder.
The looming threats of school closures over the past year have created fear, uncertainty, and anger in communities faced with the loss of neighborhood schools. All of the targeted schools serve low-income areas of the state.
In the Partnership Agreements, the districts will work with their local intermediate school district, MDE, state and local social services and education experts, and others in their communities to provide each school with the needed resources to spur improvements.
Kalamazoo Public Schools Superintendent Michael Rice told reporters he's encouraged by the agreements to keep public schools open, but long-term policy questions remain unanswered. For that reason, Kalamazoo is not backing down from a lawsuit against the SRO, Rice said.
"The broader question about whether the SRO has the ability to close schools and if at all, under what conditions, that question has not been resolved by the partnership agreement," Rice told Michigan Radio.
MEA supports a bill to repeal the so-called "failing schools law" that is driving potential building closures. Sen. Phil Pavlov (R-St. Clair) introduced Senate Bill 27 to eliminate a "chaotic" and "deeply flawed" process that has not improved academic achievement.
Meanwhile, the districts that already have signed Partnership Agreements are: Kalamazoo, Muskegon Heights, and Bridgeport/Spaulding.
Work continues with the East Detroit, Benton Harbor, Saginaw, River Rouge, Pontiac, and Detroit school districts and Partnership Agreements are to be finalized soon. A Partnership Agreement with the Michigan Technical Academy likely will not be made, as the charter school's authorizer is in the process of closing the school.
Under the agreements, the schools' progress will be monitored under specific timeframes for showing improvement.
According to the MDE, academic outcomes are a primary focus for improvement, but other factors impeding children's success will be considered and addressed, including health, nutrition, behavior, and social/emotional issues.