Hundreds of people braved steady rain Monday night to show support of teachers in Utica and Parchment who have been working without contracts since July.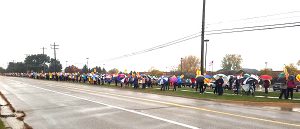 In Parchment, northeast of Kalamazoo, parents and community members packed a board meeting for the third month in a row to back teachers in their call for fair pay and a return of planning time during the school day.
Parchment High School English teacher Christine Kiel described what students miss out on when educators have no contractual time for planning and preparation in a powerful Facebook post on the Parchment EA page.
In Utica, one of the state's largest districts, teachers are asking for a voice in strategic planning. UEA President Eliza Parkinson told news media the goal is to maintain quality staffing and programming to help students succeed.
The Macomb County district is asking for cuts in pay and benefits, Parkinson said. Teachers have been willing to accept some concessions, but they want a role in building a plan to ensure the district's health and excellence in the future.