By Brenda Ortega
MEA Voice Editor
Before graduating from a Pontiac high school 36 years ago, MEA member Tony Pittman was a star quarterback and baseball player who dreamed of going pro. Like many, Pittman played out his hopes in college but not beyond, then moved on to working and raising a family.
Now the grandfather of eight and longtime Pontiac paraeducator is heading to the Olympics—a trip that can be called "special" in more ways than one.
Next summer Pittman will take the members of his Pontiac Kennedy School basketball team to compete at the national level of the Special Olympics USA Games in Seattle—a first for a Pontiac team—joined by assistant coaches Fred McFadden and Larry Redmond.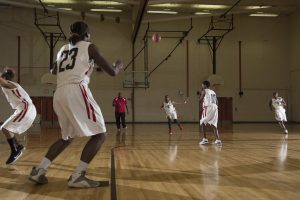 If it's his "calling" to work by day with students who have special needs at the school, Pittman says, then head coaching a Special Olympics basketball team after hours is his "joy."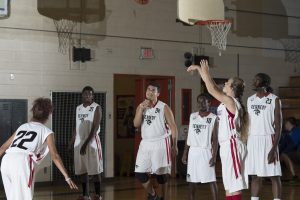 "When I see them smiling and laughing, that's what I take pride in," Pittman said. "I know they have dreams too, and they want to experience those things like everyone else does, and I wanted to help them get there. It touches my heart, and I just love it."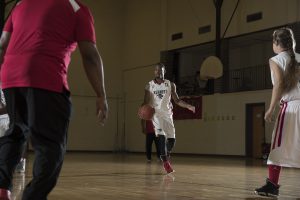 All three coaches are paraeducators in Pontiac. Pittman and Redmond work at Kennedy Center, where students have physical, cognitive, or intellectual disabilities that allow them to attend the school up to age 26; and McFadden works with autistic students at Pontiac High School.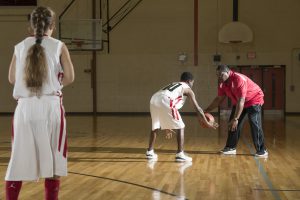 "That excites me and makes me proud that it's the parapros here in Pontiac leading this basketball program," said McFadden, president of the local MEA unit representing paraprofessionals in Pontiac. "We have wonderful parapros in this district. We wear a lot of hats; we're constantly busy, and we're always teaching."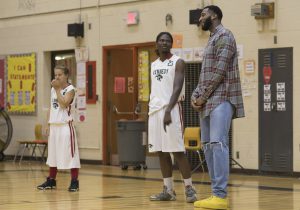 In just their fourth year of coaching the school's basketball team, the three friends have notched three state titles in Special Olympics competition, including back-to-back state championships in their first two years, 2014 and 2015; a narrow loss in 2016; and another win this past spring.
The seven-day national competition in July 2018 will take the team's 10 players to a new level of attention—as their luggage is shipped ahead of them, they travel by private airplane, and the team plays in games televised on ESPN.
And for the first time ever, the results of the USA Games will be used as a qualifier for entry into the Abu Dhabi World Games in March 2019, according to Aaron Mills, senior marketing and communications director of Special Olympics Michigan.
At a recent team practice, assistant coach McFadden reminded scrimmaging players they were preparing to face tougher teams and unforgiving referees.
"Hey, where are you walking with that ball?" he asked a point guard who took a few too many steps after picking up his dribble. "We're at the national level now—they're going to call us out on that!"
In truth, the focus of going to Seattle is not just on winning but on giving these players the experience of a lifetime, McFadden says.
The coaches are doing all of the work to raise $12,000 for the team to make the trip and for players to have some spending money while there for a week. Some team members work at jobs and live on their own with support. Others live with families that also can't afford to pay.
Many don't have a car of their own, so Pittman and the assistant coaches frequently pick up players for practice and take them home. Now they're promising to transport the young people farther than they've ever gone before.
"We're saying 'Let us do the work and we'll get you to Seattle, and we're going to make some memories to hold onto for the rest of our lives,'" McFadden said.
When representatives from Special Olympics Michigan surprised the team with news they would be going to Seattle next July, "It was like watching little children on Christmas Day getting a gift they didn't think was coming their way," he added.
Team captain and star player Nate Perkins, 23, said he was shocked by the invitation, which still feels like a dream-come-true. "I was like, 'Wow, this cannot be real,' but we earned it. We worked for it."
The team's success represents something bigger than an exciting trip for many kids who've never before flown on an airplane or traveled outside of Michigan.
Not unlike Flint boxer Claressa Shields, whose gold medals in the 2012 and 2016 Olympic Games gave her hometown something to cheer about, the Kennedy Panthers are a good news story in a city that has seen its share of tough luck.
Hit hard economically by the loss of its manufacturing base, the city of Pontiac struggled for years under a succession of state emergency managers, and the school district has been slashing budgets for four years under a consent agreement with the state.
School employees have borne the worst of the sacrifices, enduring pay cuts and several years of wage and step freezes toward eliminating the district's deficit.
"This is my home," McFadden said. "Pontiac gets a bad rap, but our goal is to try to get a positive spotlight shining on our program."
Next fall, the coaching trio plans to expand the city's Special Olympics program to include volleyball and floor hockey teams with players drawn from throughout Pontiac—not just students at Kennedy.
The Panthers have a lot of talent. They play a fast and aggressive style of basketball. Their strength is teamwork and communication, but the coaches are always working on improving the players' resilience when a game isn't going their way—getting focused instead of frustrated.
"We constantly teach them how to be good athletes, how to be good sportsmen, how to conduct themselves," McFadden said. "We're big on respect; we encourage them to shake hands before the game, because again—we want to take away that negative image of Pontiac."
Sometimes the negativity flows from the opposing team's stands. The Panthers have endured shouted racial taunts and slurs from some audience members at high-stakes games in their title runs, but their composure and teamwork draw even more compliments.
"Wherever we go, these guys are great and respectful in the community because we have high expectations," head coach Pittman said.
In recent weeks, the Panthers received advice for the Seattle trip from an especially credible source: Detroit Pistons star Andre Drummond (pictured above) surprised the group by showing up at one of their practices. He told them to stick together like family and work together as a team.
Pierre Leak, the Panthers 6-foot-2 center, said he suddenly felt short after 6-foot-11 Drummond defended him under the basket. Later, Leak won a shootout challenge in which Drummond offered $1 to the first person to sink the ball from half court.
"To think I played with a NBA player on the court," said Leak, who added he used to have a housekeeping job at the Palace of Auburn Hills before the Pistons moved back to Detroit.
Nate Perkins, the Panthers captain, swished two three-point shots over Drummond during scrimmage, and each time he did a fist-pumping strut. One of the team's two female players, Alexus Fitch, said she was "about to cry" when she got to guard her favorite NBA player.
Drummond's appearance occurred without press coverage or fanfare, arranged through his community service foundation by staff and volunteers at Special Olympics Michigan.
Head coach Pittman seemed as excited as his players.
"What a great person," the former high school star athlete said of Drummond. "It's a blessing, it's an honor, it's a night these kids won't ever forget. I couldn't believe it either—how tall he was!"
His players are enjoying life right now, Pittman said, and that's what he wants. It's why—in addition to the medals his players received for their state titles—he personally bought three separate large-sized gold cup trophies to display at the school.
"I want them to feel special and important, because they deserve it," Pittman said.
The three Pontiac paraeducators who coach the Panthers basketball team have been hard at work raising money to send the team to the Special Olympics USA Games in Seattle next July—holding raffles and bowling night fundraisers. Others can donate to help cover the Panthers' expenses through the Special Olympics Michigan fundraising page by going to www.FirstGiving.com/SOMiArea/Area15USA.