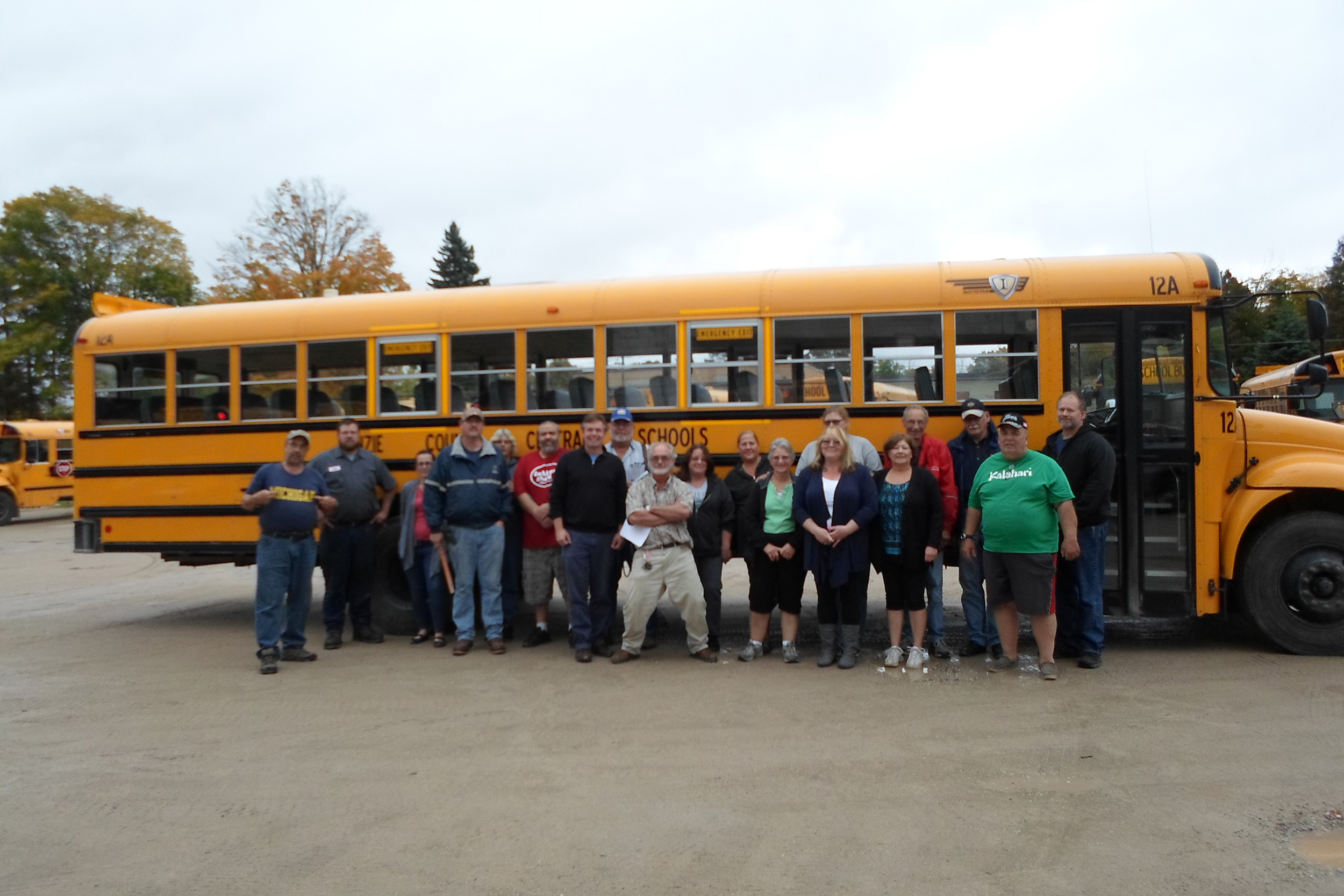 In his work as a school bus driver for Benzie County Central Schools, Marc Rosseels drives 134 miles per day across four counties, over two-lane highways and down dead-end dirt roads – sometimes in challenging northwest Michigan weather conditions.
All the while he's supervising children in the seats behind him through the giant rearview mirror above the windshield, and he's stopping to let more students climb aboard – offering a smiling "Good morning" to every single one.
It might seem an easy job, until you drive a mile in his shoes. "There's a lot more to it than just driving a bus down the road," said Rosseels, president of his local transportation union. "No one is more potentially distracted than a school bus driver. If you lose focus, you're in trouble."
Driving home the difficulty of the job was one of the messages Rosseels wanted to send during a recent ride-along by Dan Scripps, a candidate for the 101st district of the state House of Representatives.
The owner of a local radio station, Rosseels used to work on-air full-time until his retirement from broadcasting eight years ago. Now he arrives at the bus garage nearly an hour before he has to leave on his morning route – time to grab a cup of coffee, chat with co-workers, and conduct a safety screen of his bus's engine, brakes, lights, and moving parts.
Bus driving is a job made harder by state budget cuts that have forced routes to consolidate and lengthen – meaning bus runs start picking up youngsters as early as 6 a.m. – a consequence of under-investment in schools that Scripps did not understand before spending the day with Rosseels, he said.
"That ultimately has an effect on school achievement," said Scripps, who held the House seat he's seeking to reclaim from 2009-10.
 The next day Scripps conducted a similar observation in Ludington Area Schools, and 15 teachers expressed an interest in having him visit their classrooms – a sign of educators' hunger to be heard by lawmakers, said LEA President Judy Bussey.
"If (legislators) can take the time to understand how magnificent public education is, and also realize the challenges of it, maybe they would carry our voices back," Bussey said. "Public education is the foundation of our whole society."
Scripps spent the morning in the fourth grade classroom of MEA member Christine James, where he was amazed at the impressive work children are able to accomplish on iPads – a recent technology upgrade funded through the community's willingness to pass a bond issue.
Yet class sizes even in younger grades remain stubbornly high, at 30 or more, in some cases. "That largely is driven from a lack of investment from Lansing," Scripps said.
 In the afternoon, students in MEA member Shelby Thelen's seventh- and eighth-grade social studies classes enjoyed the opportunity to learn a few things about government from an insider like Scripps, Bussey said.
And the students took the chance to let him know what they wish they had – from school supplies, such as colored pencils, to air conditioning for days when it becomes too hot in the building to learn.
"I think it's important for anybody who's making decisions on schools or school finances in Michigan to know exactly what it looks like in classrooms and on buses," Scripps said.
Scripps walked away with a newfound respect for the dedication of school employees of all stripes – and a sense of the real human beings whose lives are affected by line items in the state budget.
"Education doesn't start with the bell and end with the bell," he said. "I was amazed at these incredibly dedicated individuals who care about their students and have their best interests at heart."