By Brenda Ortega
MEA Voice Editor
The financial situation in Ypsilanti's Lincoln Consolidated School District was dire when school employees stepped up to take hits for the team – absorbing job cuts, insurance premium hikes, pay reductions, and more in the hopes of restoring stability over a five-year period.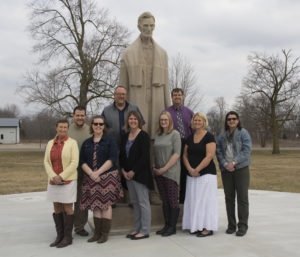 What a difference one school year made. A $7.5 million difference, to be precise.
Thanks to employee sacrifices, the 4,000-student district moved from a $2.3 million deficit to a positive fund equity balance of more than $5.2 million in record time – exiting state financial oversight four years early.
"To my knowledge, no one else in Michigan has been able to do what we have done," said Jackie Shock, a teacher at Bishop Elementary School who was president of the Lincoln Education Association when the deficit elimination plan was negotiated.
To turn finances around quickly, union leaders agreed to reduce staff numbers by 50 with a combination of retirements, attrition, and layoffs. Employees also agreed to reopen an already concessionary contract, which resulted in salary cuts, higher health insurance costs, and reduced Health Savings Account contributions from the district.
Support staff and administrators had been making concessions for years, but to make a big impact on the budget quickly teachers absorbed the biggest hits in 2015. Class sizes got bigger – above 30 in the elementary grades – but educators soldiered on.
Among the most painful concessions for teachers was the loss of prep time. With no breaks during the school day, without time to plan and grade outside of nights and weekends, people approached burnout levels of stress last school year, said Michael Weathers, a Lincoln High School teacher and current LEA president.
"It was very tough for our own mental well-being having no prep time," Weathers said. "We were in survival mode, and people said they could not do it again; they were exhausted."
That's all changed with the district's rapid recovery. Now Lincoln employees are working under an amended contract for this school year – a significantly altered spending plan approved by the School Board in January once the fund balance reached 12 percent of the total budget.
New staff is coming on board. Class sizes are falling. Prep hours have returned. A 3 percent pay cut was restored for 2016-17. Next year, teachers will receive both a step and their first on-schedule raise in 10 years.
"Now we have a bit of a bright future ahead of us and definitely a much more optimistic feeling," Weathers said.
Including Lincoln, 16 Michigan districts or charter academies eliminated deficits between June 2015 and December 2016, most after multiple years under deficit elimination plans. Twenty-seven remained in the red.
A study released last summer by Michigan State University showed that districts in Michigan get into financial trouble almost entirely based on factors outside of their control, yet state policies enacted since 2011 employ a punitive approach to dealing with so-called "deficit districts."
The MSU research, published in the Journal of Education Finance, found the causes of financial distress are chiefly drops in state per-pupil funding, declining enrollment, and higher shares of special education students – especially in areas where charter schools are prevalent.
Meanwhile, lawmakers passed new measures between 2011 and 2015 allowing emergency managers to take over schools in financial emergencies, authorizing state officials to dissolve districts considered "unviable," and increasing financial reporting requirements to intervene sooner in districts with low fund balances.
Like other districts, Lincoln was hit hard by the financial crisis of 2008. The community experienced huge job losses. Foreclosures skyrocketed. School enrollments declined. Charters opened up. At the same time, the district experienced high administrative turnover.
Painful concessions made by Lincoln school employees to rein in the deficit last year "crushed morale," said former School Board President Kim Samuelson. "Teachers were exhausted, and support staff found themselves doing work they were never expected to do before."
But now the district is strong and well-positioned for the future, she said. "It is the staff's commitment to our kids, in spite of deep personal sacrifice, that makes Lincoln so attractive to parents," Samuelson said.