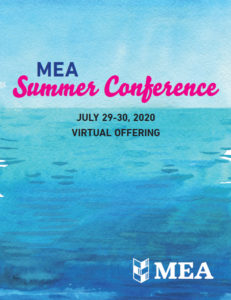 MEA is pleased to announce the 2020 Virtual MEA Summer Conference – no COVID-19 pandemic can stop us from gathering to get information to both learn and help our union brothers and sisters!
The conference will be held on Wednesday, July 29, and Thursday, July 30, beginning with a message from MEA President Paula Herbart at 10 a.m. There will be a total of 36 session offerings throughout the rest of the day.
Each participant will be required to register online for the conference at MEA.org. There will be no fee for the conference which is only open to MEA Members in Good Standing. It will be important for members to watch for a confirmation email for the conference to confirm their on-line registration was processed all the way through. Participants can sign up for one session in one series, one in multiple series or one in all series.
Further instructions about the platform to use for each session will be distributed to participants the week before the actual conference.
Please help us spread the word about this training and learning opportunity. Registration for the conference will be available beginning Tuesday, June 16, and will close on Friday, July 17.
How to Register
Learn more about the sessions being offered – and then register online. If that direct link doesn't work on your device, you can:
Go to www.mea.org/members-only
Scroll down to Register for Conferences and click to log in
After logging in, click on Upcoming Events. 
PLEASE NOTE: To use online registration, each member must sign into their MEA account so that the information is on their record. One MEA member cannot register another MEA member.
Please verify that your email address is correct on the system before registering. This is how you will receive a confirmation email to let you know that the registration and payment was processed correctly.
Session availability will be in real time so there is no need to list/select a 1st, 2nd and 3rd choice when registering online. If the session is available to select as the member is registering, there are seats available in that session.
IMPORTANT: If you receive a message about any time overlap, you have registered for overlapping sessions and will need to remove one of the sessions before you can finalize the registration. The system is trying to help make sure your registration is complete/correct so no further action will be required on your part prior to the conference.
Watch for a confirmation email. This will be your proof that the registration processed all the way through the system. If you do not receive a confirmation email immediately following registering or have any questions, please contact Carolyn Cortright at conferences@mea.org.