By Brenda Ortega
MEA Voice Editor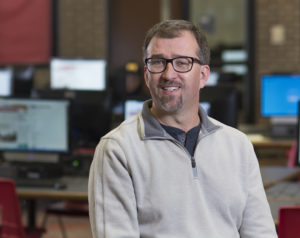 When MEA member Brian Chinavare sees his Facebook friends sharing misleading or phony information, he can't help thinking of the students they used to be – and the critical reading skills they didn't learn in school.
After all, who knew we'd be living in a "post-truth" society – a term declared by the Oxford English Dictionary as the 2016 Word of the Year?
Helping kids navigate the digital world in the age of "fake news" and "alternative facts" is one of the missions undertaken each day by Chinavare and other school librarians – also known as media specialists and information literacy specialists.
"My job is to teach kids, first, how to recognize that they need some information and then how to locate it, evaluate it, and use it effectively," said Chinavare, librarian at Frost Middle School in Livonia.
Times have changed, he said. It's simple to find information, harder to judge its credibility. "We've gotten to a point where the technology behind creating a website is not that difficult anymore, and amateurs can make themselves look pretty credible."
It would be easy to assume today's young people don't need any guidance in the virtual realm. Known as digital natives, they've grown up with supercomputers at their fingertips around the clock – which has made them savvy tech consumers, right?
Not so fast, according to Stanford University.
A recent Stanford study of nearly 8,000 students found the majority of preteens and teens don't know how to determine the accuracy and credibility of information they find on the internet – particularly social media sites where many of them get their news.
The study released last November revealed 82 percent of middle school students could not distinguish between news and "sponsored content" on a website. Four in 10 high school students cited an unidentified photo of deformed flowers as "evidence" for claims of toxic conditions near a nuclear plant.
It's not a problem confined to young people, said Mike Ward, a librarian at Clintondale High School who also serves as his association president. "Everyone wants to click a little piece, and then they're gone and rolling," he said.
Nor is the issue of false or misleading information a new phenomenon. Ward, a longtime social studies teacher before becoming a librarian, said he opened his U.S. History classes years ago with a National Enquirer article he noticed standing in line at the grocery store.
"The headline on the cover said, 'George Washington Aided by Aliens While Crossing the Delaware.' I bought it, copied it, and that was the conversation starter."
However, with the explosion of so-called "fake news" spreading rapidly across social media platforms, the importance of addressing gaps in the quality of information has grown exponentially along with it.
Sorting out the good from the bad requires critical thinking skills and patience – qualities that must be taught and modeled by educators, Ward said.
"The conversation begins in the classroom and works out from there," he said.
Andy Schoenborn has embraced the challenge in English 12 classes he teaches at Mount Pleasant High School – drawing on work he's done as a teacher consultant at the College Ready Writers Program, part of the National Writing Project site at Central Michigan University.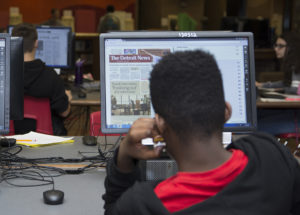 His seniors undertake a rigorous research, debate, and writing project, tackling a controversial subject (most recently digital tracking and online privacy rights) to develop an authoritative piece of writing that draws on and critiques the strongest research and opinion articles from a variety of perspectives on the subject.
"We're using informational texts as mentor texts – to examine how writers are doing what they're doing – but then really tearing these pieces apart from other things and using informational text to extend and share what students think about a topic," Shoenborn said.
As an English teacher, taking on ambitious projects in the classroom is manageable with a librarian on staff to help students find and evaluate primary and secondary sources of information, which is why Mount Pleasant educators worked hard to fight off administrators' attempt to cut media specialists several years ago, Schoenborn said.
Among the many roles they play, certified professional media specialists extend the conversation about information literacy beyond the walls of individual classrooms, connecting educators with tools and curricular resources across grade levels and subject areas.
Unfortunately, state funding cuts to education have slashed the number of certified librarians in Michigan schools by 62 percent between 2003 and 2014, compared to a 17 percent loss nationally during the same time period.
Related story: Loss of Librarians Hurts Literacy Efforts
"I think we are more important than ever, and we've been reducing in numbers," said Judy Freels, an information literacy specialist at Stoney Creek High School in Rochester. "In this day and age, information literacy skills are critical – even more so than 10, 15, 20 years ago."
Freels said students regularly pull articles from websites that have no author listed, no publisher, no dates of publication or last updates, "and they think because it's in print or on the screen that it's factual. That's when I say, 'This could be true, but let's verify.'"
Indeed, in the Stanford study even college students were found to be easily duped by a website's high production values and polished "About" pages – even if fake or false.
Freels helped develop the curriculum for the Rochester district's required ninth-grade class on digital citizenship, which includes lessons on how to find reliable sources and determine if information is credible or not.
Like many other librarians, Freels trains students in the intricacies of navigating research databases, including the free Michigan e-Library known as MeL. Databases are searchable collections of academic journals and other professionally written and vetted material.
Unlike Google and other popular search engines, databases require students to use keywords and Boolean operators instead of natural language in phrasing their search terms. MeL offers educators a resource page with tips and handouts, broken down by grade level.
Once students find material through MeL or another database, the challenge is in grasping the content, said Genevieve Minor, a media specialist at Traverse City West Senior High School.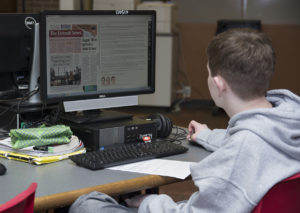 Minor takes students through a step-by-step process that begins with reading general articles to learn the basic facts and vocabulary of a topic, which helps them formulate better questions, sharpen their research focus, and comprehend increasingly challenging articles.
"Facts are indisputable, and you need to know that factual information before just diving into magazines and newspaper articles and other things where you're going to see more opinion and potential bias," Minor said. "If you don't know that information, you're not going to be able to become the skeptic – and I want them to be skeptics of information."
That doesn't mean Minor ignores the reality that students – and most adults – regularly use Google and other popular search tools. In fact, Minor thinks educators must embrace that truth and teach students how to evaluate internet sources they'll be using all their lives.
This year she's pushing for 11th-grade English teachers to pilot a research project in which students conduct a comparative study of various sources of information on an issue. Students would analyze the quality of information based on a set of journalistic and research standards.
It's not easy for human beings to challenge their own assumptions, but good researchers must be willing to step outside of their comfort zone – a useful framework she uses with students.
"I want them to look at a piece of information that is thrown at them through social media and have the first thing they think about to be – Is that true?"
The best way to develop that habit might be to start early. In Clarkston, Laura Cadreau serves as the media specialist and tag teams library services at two elementary schools with a paraprofessional who's worked side by side with her for 13 years.
Cadreau rotates classes of all grade levels through her library for weekly lessons in literacy. One of her favorite lessons for older students asks them to go to a website and answer questions about an endangered species – the Pacific Northwest Tree Octopus.
She doesn't tell them the site is a hoax, and students don't figure it out right away. Some realize the truth eventually, but at least half are shocked when Cadreau tells them at the end.
"They will accept it at face value," she said. "And then we talk about the importance of looking at related links and to ask questions and be suspicious – to look for bias or try to figure out if it's a reputable website."
By the time they get to college, young people live on the internet and it's important to meet them where they are, said Nicole Ellet-Petersen, who teaches writing and literature courses at Gogebic Community College.
She sees hopeful signs in this generation's preoccupation with their phones and social media, she said. "They immerse themselves in text all the time. They're reading all day long."
Her students care about social issues and current events, she said. They want to discuss difficult topics. And they're better readers than their predecessors, at least at Gogebic, where the numbers of incoming students testing below college level now is roughly half what it was five years ago.
Her students know that internet information can be unreliable, but they lack confidence in how to root out the good stuff, Ellet-Petersen said. She talks in her classes about liberal and conservative bias – defining the terms because many students don't know what they mean. She relates it all the way back to Thomas Jefferson and John Adams, and federalism versus states' rights.
"They don't even know what side I'm on when I'm explaining it, because on both sides there is a legitimate political philosophy," she said.
Using that foundation, she has freshmen undertake research and debate in which some students are advocates and try to sway independents who haven't formed opinions yet. It's a useful strategy for encouraging students to use only high-quality information, she said.
Training in information literacy doesn't stop when students arrive at college, where they're expected to confirm facts with multiple articles and document the validity of sources, said Lisa Anderson, a reference librarian at Muskegon Community College.
"Our goal is to help students become better researchers and get them to understand that true research does not just stop – it is cyclical," Anderson said. "The more you read, the more questions you have, and the more research you need to do."
As with any important skill, students need to have critical reading modeled and taught again and again in various settings to eventually master it, said Mark Blaauw-Hara, a literature and writing professor at North Central Michigan College in Petoskey.
"People who haven't worked as teachers tend to think we tell students facts and how to do things and students just do it and know it," Blaauw-Hara said. "In reality it's a dialogue; we have to get to know students and meet them halfway and have conversations and ask questions. It can be hard, but that's what our job is – opening people's minds."
Watching that transformation happen is the reason he's a teacher-librarian, said Clintondale's Mike Ward. "Seeing someone go from hopeless and giving up, because they can't find what they need, to knowing how to find good information is pretty fulfilling."
Livonia's Brian Chinavare agreed. "If we can make a good impression on kids when they're here, then they'll be good users of information when they're adults. And that's important for our democracy."