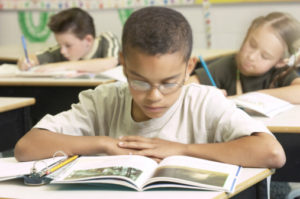 A long-debated third grade reading bill emerged from conference committee late Tuesday evening with a magnified focus on retention of children who fail to meet grade-level proficiency targets. The House and Senate rushed a vote on the new version of the bill, which MEA opposed in its final form.
The measure passed both chambers on Wednesday, 25-10 in the Senate and 60-47 in the House. The bill could not be amended and could only be voted up or down, according to conference committee rules.
The six-member committee of four Republicans and two Democrats began closed-door meetings to discuss the issue in March, after the House and Senate passed competing versions of the bill – with the House taking a more hardline approach and the Senate offering more alternatives to grade retention of youngsters, which research shows does not work as a remediation tool.
The conference committee version of the bill reverted back to provisions not supported by MEA. It includes some opportunities for parents or district officials to seek exemptions for students under certain conditions. A student could demonstrate a higher reading level on an approved alternative assessment, or a parent or district administrator could seek an exemption for the child.
However, newly added provisions would require any student seeking an exemption to demonstrate grade-level proficiency in other subjects, namely in statewide math assessments and in science and social studies portfolios.
While MEA opposed the bill in its final form, MEA lobbyists were successful in getting several changes made in the bill that were maintained in the conference committee version that passed both chambers on Wednesday, including:
Professional development and other coaching and implementation supports for educators to improve reading instruction
Allowing districts to choose from several tests or alternative methods for demonstrating student reading proficiency
Providing an individual reading plan for struggling students that includes the remediation needed to help students advance
A requirement that students be one year or more behind grade level before retention requirements are triggered
When the bill was first introduced three years ago, it would have mandated retention of all students who did not test proficient in reading with no exceptions, no remediation, and no teacher training included.