Rhonda Drumm estimates she spends close to $1,000 a year on classroom supplies and extras to support her students and keep her Biology and Advanced Placement classes running smoothly at Northwest High School.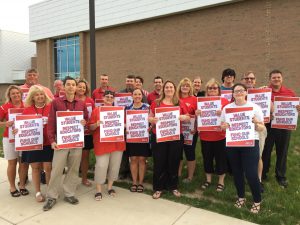 It's also why the Jackson County science teacher joined a Wednesday Walk-in at her school – meeting up with other MEA members to #WearRedForPublicEd and enter the building together in solidarity.
Educators give their all for students without enough resources and respect, Drumm said. "These are my kids; you want the best for your kids, so you do your best to make it happen," she said. "We're asked to do a big task with next-to-nothing."
For the fourth consecutive Wednesday, school employees across Michigan this week donned red in a call for lawmakers to value students, respect educators and fund our schools. Walk-ins also were held at several schools, including in Huron Valley and Rochester.
"The gap between the wealthy few has never been larger and the causal agent is the deterioration of unions," said Katie Antrap, a teacher at Stoney Creek High School in Rochester, where teachers were joined by parents in the demonstration of support for public schools.
"They are trying to take away collective bargaining," Antrap added. "If educators don't lead the way for students, who will?"
Children who are struggling need help, said Huron Valley fourth grade teacher Michele Hojnacki. They need social workers and speech therapists and special education teachers – now. There is no more time to waste, she said before educators walked into school Wednesday.
Hojnacki pointed to a recent study by a coalition of business and education leaders that found Michigan is underfunding schools by nearly $2,000 – more for at-risk and special education students.
"Those children are going to be our leaders tomorrow; we need to do what we can to help them today," she said.